I am a quirky, fun gal that tries to be an ambivert but ends being an introvert. I enjoy reading novels whether they are historical fiction, adult fiction, fantasy, young adult, mystery, or fanfiction. Sometimes even chick lit or romance novels sneak their way into my to-read pile. I've made multiple attempts at writing my own novels but always find my way into others' stories and lose focus in my own. It's not a bad thing, don't get me wrong. There are SO many wonderful books out there it's hard not to get caught up in all the different world, characters, and stories.
Music has also been a hobby of mine since I was in elementary school. Over my life the many instruments I have played have been; flute, piccolo, marimba, bass drums, piano, and most recently the ukulele. My love of music began in 5th grade when learning to play the flute. In middle school and high school I joined the concert and marching band. The high school marching band I was a part of was pretty freakin' good! We won state competitions that still to this day make me smile when I think about the medals and welcome home police escort we received. Many, if not most, of my friendships began with members of the high school band. I loved it so much that I decided to further my understanding of music by attending college to focus on music. However, college was a different story. I did not find the same companionship and warmth from the music department or it's students. Because of that I ended my focus and pursued other fields. I dabbled in accounting but quickly found that was not for me. After attending a few other random classes I was enlightened to another study focusing on sociology and human services. I was quickly drawn in and ended my college experience with a Bachelor's' degree in that area.
Although I obtained my BA in Sociology I feel my career following higher education has rarely been related to that area. I've worked at the front desk, as a manager, as well as billing for a medical office. Each experience and staff has led me to where I am now. I am thankful for each opportunity and challenge that has helped me grow as a person. Currently I am challenging myself by working in an area that is highly centered around the public and health. It's a big change from the jobs where I was hidden in the back office. It's humbling to reflect on where I began and where I am today. Looking forward, I hope to continue growing and challenging myself.
When it comes to family, well that is #1. I am married and we have two lovable cats and one adorable dog. All three were rescued and each have a story behind their weird habits I treasure.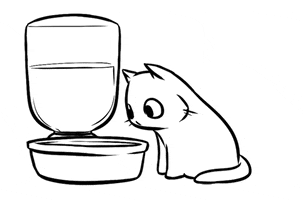 Sometimes I am crafty. Sometimes I am artsy. A lot of the time I am in my pajamas snuggling a cat, drinking coffee while reading a good book. Why? It's difficult to find and make friends when you're not social. And even more so to find ones who have enough in common to stay friends. We are all busy focusing on our jobs, family, or whatever it may be. I enjoy the old and simple things. Like mailing letters, going on walks, discussing books, chatting while sipping coffee or tea. I'm not into the party scene. Maybe that's why creating a website like this was encouraging and I am eager to continue using it. I can share and hopefully relate to other hermit-like/introverted/non-social people like me!
Well…that's enough about me. Go on and explore my blog full of stories, pictures, reviews, music, and fun! Enjoy and I look forward to your follows, friendship,and feedback. I'll try to keep the blog alive enough to stop by every once in a while. =)
---
*Use the MENU at the top to find posts by category*
---